Men's snowboard bindings Bataleon CHAOS FULLWRAP black are among models with medium stiffness . The Bataleon brand produces quality boards, bindings and shoes. The same is true of this binding model. For more information, read the specifications below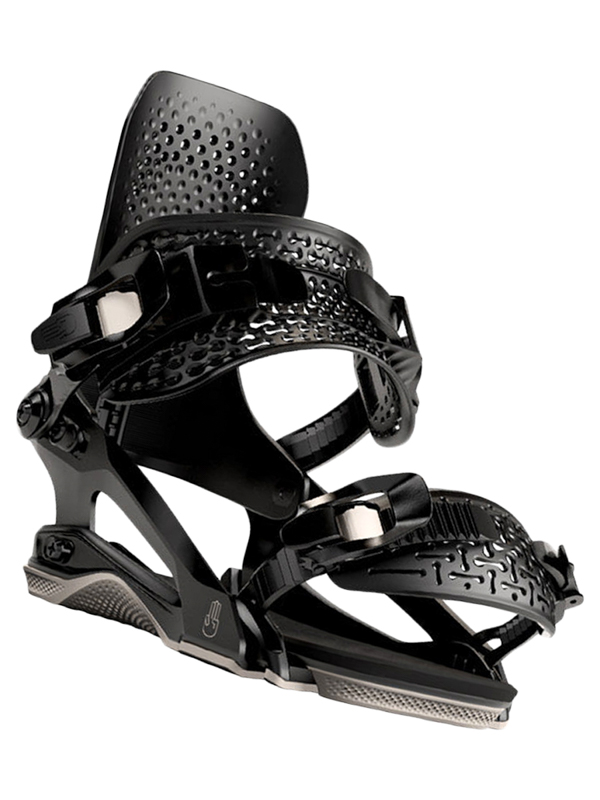 Technical Specifications:
Flex: 6/10
Highback
Quarterback - A radically reduced construction that is extremely light and gives you more freedom in the obstacles, with the right support in the heel
Rotation - Set your highback parallel to the heel edge for the most efficient energy transfer
Tilt adjustment - Using a simple clip, you can easily adjust the tilt of the highback - a higher tilt for a more aggressive ride, a smaller one for a relaxed descent
Straps
Durable buckles - Very strong aluminum ratchets that will never let you down. They are equipped with triple teeth for very fast fastening of the straps
Pop Ladders™ - Straps shaped to deflect away from the binding, allowing fast entry into the binding - Fast Entry
Transfer Toe Strap - Front AuxTech strap for unmatched grip and comfort
Transfer Ankle Strap - Lightweight yet durable one-piece ankle strap construction with a pre-curved ergonomic design that distributes pressure evenly across the entire foot and offers the ideal level of freestyle flex and support
Base
Fullwrap Chassis - Four connection points offer a slightly softer lateral flex without sacrificing edge control. This is ideal if you prefer a surf feel and higher lateral flex
Adjustable Foot - Adjusting the foot allows you to center the shoe in the binding for optimal placement on the board
Damping
Adjustable insole - Choose from three different FootPad positions to perfectly fit the sole of your shoe
ToadGrip Heelpad - Grippy rubber pad protects the back of the shoe to keep it firmly in place
Fast Entry - Specially shaped straps that naturally deflect themselves to clear the path of your foot for comfortable entry into the binding
AuxTech -Auxetic Shape technology uses articulated patterns that perfectly hug the shoe without stretching or deforming the material, eliminating pressure points for optimal support and comfort
Never Miss a Day - When driving hard, it happens that some part wears out over time, so spare parts such as screws, straps, etc. are included with the binding.